Restaurant Menu
No outside food or beverage is permitted. Both bar and restaurant close 1/2 before closing time, no exceptions.
**Reservations are not required but are highly recommend!**
Appetizer and sandwich selection is available on Monday and Tuesday.
Full menu is available Wednesday through Sunday.
We do accept dinner reservations, although not required, we highly recommend them. Kitchen & Bar closes 30 minutes prior to winery closing.
*Gluten Free Menu available. Prices may vary.
Children's menu also available-see below
In addition to wine, we also carry three rotating local Craft beers on tap.                                      
                                                     ~Appetizers~

Buffalo Chicken Dip / 9
Zesty buffalo chicken dip in a Romano parsley bread bowl served with tortilla chips

Bruschetta  / 9.50
Tomatoes, onions and herbs on Ciabatta bread with parmesan cheese & balsamic – GF
Bacon & Blue Chips / 8.50
Kettle chips, blue cheese, bacon with balsamic glaze- GF

Cured Meat & Cheese Plate / 14
White Cheddar, Smoked gouda and Swiss,  kielbasa & summer sausage (NaKyrsie Meats), Castellano olives, peppadew peppers, Kalamata olives and a baguette and crackers.
Cheese plate without the meat / 10
Brie & Pear / 15
Warm brie and sliced pears covered in either a caramel glaze or a blackberry & lemon glaze & walnuts.  Served with a French baguette- GF

Ohio Cheese Plate / 15
Rowdy Cow Creamery bruschetta cheese, garlic cheese and fromage blanc topped with seasonal jam from Pepperliscious Jams. Served with sliced apples, crackers & pepitas – GF
Artichoke & Asiago Dip / 10.00
Artichoke and asiago dip served in a bread bowl with tortilla chips –GF

Tipsy Grape Olive Oil Tasting Tray / 9
Enjoy a sample tray with a variety of olive oils & vinegars served with a baguette. All oils and vinegars are available for purchase in our gift shop.
Tipsy Tapa Trio / 11
Roasted red pepper hummus, Olive tapenade & spinach dip served
with  carrots & sea salt crackers-GF
Warm Pretzel Sticks / 8.50                                     
Four large soft pretzel sticks served with warm queso, beer cheese &
honey mustard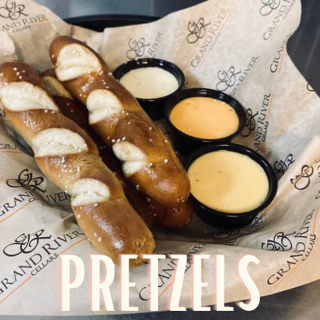 ~Sandwiches/Salads/Pizzas~
**All sandwiches served with coleslaw, kettle chips, and pickle.
Choose your cheese: American, Swiss or Provolone
The Tipsy Bull Burger / 11- GF
Juicy, tender burger cooked medium well

Chicken Pesto/ 11
Grilled chicken breast topped with pesto sauce and served with roasted red peppers –GF
Bourbon Chicken / 11
Grilled chicken breast topped with a blackened bourbon sauce

The Veggie Burger / 10.50
Roasted red peppers (Vegan option) 
BBQ Pulled Pork / 11
Shredded BBQ pork on a pretzel bun

Crab Cake Sandwich / 14
Blue lump crab cake served with homemade remoulade sauce
Slovenian Sausage Sandwich / 10
From local butcher NaKyrsie Meats with fresh kraut

Chicken Caesar Wrap / 10.50-NEW ITEM!
Chilled grilled chicken, lettuce, croutons, shredded parmesan cheese & Caesar dressing in a tomato basil wrap

Club Wrap / 10.50
Ham, turkey, bacon, lettuce, tomato, ranch dressing in a tomato basil wrap 

Vineyard Brat Sandwich / 10
Grilled bratwurst (NaKrysie Meats) topped with coleslaw & sauerkraut
Turkey Burger / 12
A juicy turkey burger topped with bacon & guacamole –GF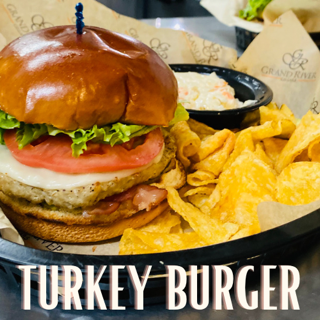 Italian Veggie Lovers Pizza / 14.50
Olives, roasted red peppers, artichoke hearts, onions, feta cheese & pesto sauce topped with balsamic glaze- GF
The Tipsy Pig Pizza / 14.50
Bacon & pepper rings, mozzarella cheese topped with ranch dressing –GF
Summer Salad / 11
Bed of mixed greens with dried cranberries, feta cheese & candied walnuts served with raspberry walnut vinaigrette dressing-GF
Greek Salad / 11
Fresh greens topped with artichoke hearts, red peppers,  Kalamata & black olives & feta cheese. Topped with Greek dressing –GF

Asian Salad / 10
Bed of mixed greens with rice noodles, mandarin oranges, onions & sesame ginger dressing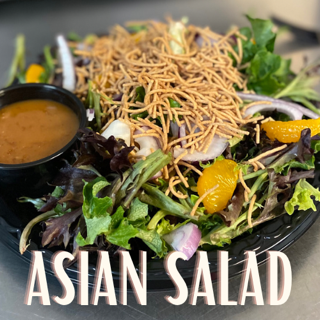 -Add the following to either salad-
Chicken breast/ 4; Shrimp skewer/ 5;
9oz. Sirloin/ 14; Crab Cake / 9
4-5oz Lobster Tail/14
  ~Entrees~
All entrees are served with a choice of two sides-Caribbean Vegetables, Yukon Gold Mashed Potatoes or Cole Slaw

8 oz Top Sirloin Filet / 23 -GF

9 oz. Black Angus Sirloin Steak- / 21 -GF
Surf & Turf / 32
Enjoy one 4-5 oz. Lobster tail and our 9 oz. Sirloin Steak –GF

Bourbon & Blue / 26
8 oz. filet mignon with blue cheese & a bourbon coated shrimp skewer
Large Twin Lobster Tails / 32
Twin 4-5oz Maine Lobster Tails –GF

Marinated Chicken Dinner / 18
Fall-off-the-bone  marinated all natural half chicken-GF
BBQ Ribs / 21
Half slab pork ribs

Bone-In Pork Chop/ 17
8oz Brown Sugar marinated chopped topped with a maple-bacon bourbon sauce
Garlic Shrimp Skewers /16
2 Skewers of grilled, garlic rubbed jumbo shrimp-GF
Crab Cakes / 23
Two blue lump crab cakes over remoulade sauce

Chardonnay Steamed Salmon / 19
8oz filet of Salmon steamed in Chardonnay- GF
Bourbon Salmon / 19
8oz filet of Salmon topped with bourbon sauce
Sun Gold Tomato Pasta / 15-NEW ITEM!
Roasted sun gold yellow tomatoes tossed in penne pasta & topped with feta cheese & a balsamic reduction
Roasted Red Pepper Pasta / 14.50
Penne pasta tossed in a red pepper sauce

Add the following to any dinner-
Chicken Breast/ 4
Shrimp skewer / 5
Crab Cake / 9
4-5oz Lobster Tail / 14

Spaghetti & Meatball Special- $8
THURSDAY & SUNDAY ONLY! Dine in only-cannot be used with any coupon or promotion. Enjoy our homemade sauce covering a large portion of spaghetti and 3 hearty meatballs. Served with dinner salad and a roll 
                                                       ~Desserts~
Chocolate Lover's Lava Cake / 7
Flourless Molten Lave Cake-GF

Vegan & GF Peanut Butter Pie / 4.5
Tastes just like a Reese's Peanut Butter Cup
Raspberry Cheesecake / 5
Creamy raspberry cheesecake with a chocolate crust
Limoncello Cake / 6
A rich combination of Sicilian lemon infused sponge cake and Italian mascarpone topped with European white chocolate curls
Chocolate Chip Cookie Dough Cheesecake / 7
Chocolate chip cookie dough, chocolate chip cookies & chocolate cheesecake come together for this fantastic dessert 
   ~Children's Menu~
Burger
Served with choice of cheese, LTO, chips & mandarin oranges
Mac & Cheese
Served with chips & mandarin oranges
Pizza
Personal Pizza with cheese & pepperoni. Served with mandarin oranges
Corn Dogs
7 mini corn dogs served with chips & mandarin oranges
*All children's meals served with a choice of grape juice or lemonade
**Prices are subject to change.
If you have not eaten here before then we must inform you: all dinners are served on the finest plastic known to man. Because we do not have the necessary means (according to Health Department Regulations) to wash dishes, all food is prepared in and served on disposable products. This fine plastic will not effect the flavors of you meal!
No outside alcohol is permitted to be brought onto the property. If alcohol is found, it will be immediately confiscated and you and your party will be asked to leave. (This includes party favors)