Woof, Wine & Wag Trail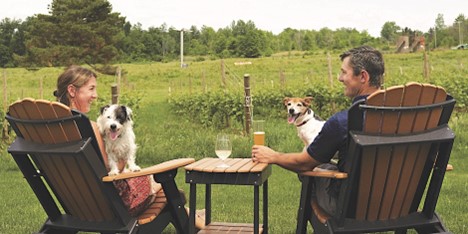 Join Grand River Cellars Winery & Restaurant, Debonne Vineyards, Cask 307 Winery & enjoy a Food & Wine Tour with your pup during the entire month of June to benefit the Lake Humane Society.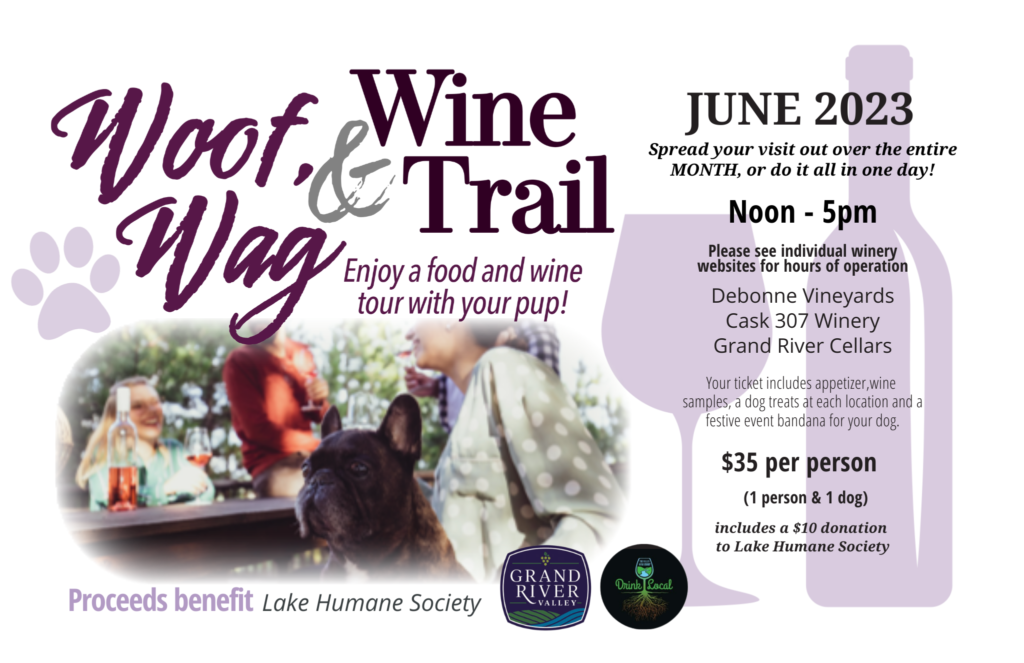 You can spread your visits out over the entire event duration (though your ticket only entitles you to a tasting at each winery once). Your ticket includes appetizer, wine samples, a dog treat at each location, and a bandana for your dog.
$10 donation will go to the Lake Humane Society
Please note:
We welcome well-behaved, friendly dogs. Dogs must remain leashed at all times. Please be respectful of other visitors. Maintain a short leash so as not to interfere with other visitors or dogs.
Owners must carry with them proof of up-to-date rabies vaccines for their dogs.
No females in heat.
Help keep our grounds beautiful by cleaning up after your pet.
All 3 participating wineries are dog friendly outside and have covered seating for inclement weather.  Due to the local health department guidelines, dogs are not permitted inside the buildings.
Every ticket purchase will receive a $5 off coupon to Ruff Life on the Lake-Geneva-on-the-Lake's dog centric restaurant and gift shop.

Debonne Vineyards · 7840 Doty Rd. * Madison, OH
Bark-cuterie Board
"Pom"eranian Sangria (additional fee)
Grand River Cellars · 5750 Madison Rd. * Madison, OH
Anti"PAW"sta Salad
Paw Rum Punch (additional fee)
Cask 307 Winery · 7259 Warner Rd. * Madison, OH
Give Your Dog a Bone Boozy Chocolate Brownies
Pink Poodle (additional fee)
Closed on Wednesdays
*Please check the hours of the participating wineries listed before you plan your visit*. Ticket will sell fast. $35 per person.
Purchase tickets at the following link:
Woof, Wag & Wine Trail Tickets, Thu, Jun 1, 2023 at 12:00 PM | Eventbrite
*Looking for dog friendly accommodations.
View the following list:
Pet Friendly Lodging-Lake County
Pet Friendly Lodging-AshtabulaCounty