Wreaths & Wine!-SOLD OUT!
Wreaths and Wine is back with a Summer Wreath class with Lavender and Libations!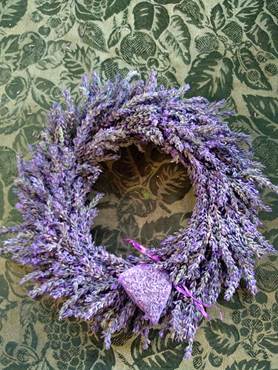 How can you have the beauty and fragrance of fresh lavender last for years?  Make a wreath with it in this class with Maggie Fusco, longtime wreath maker and proprietor of The Wood Road Salad Farm in Madison.  Maggie has been growing and making wreaths and other crafts with lavender for 20 years on the farm.  In this class on Wednesday July 19th at 6pm you'll learn a simple technique to create a wreath made with this year's crop of fresh lavender harvested each year in early July.
Fee is $60 which includes all materials plus a glass of wine to toast your success! It takes A LOT of lavender to make a nice full wreath like this, but everyone takes one home with a finished size of 20"-22"!
To sign up, please call 440-298-9838 or visit the link at Eventbrite:
THIS EVENT IS SOLD OUT!