Cask, Corks & Forks Wine & Food Tasting Event
The Winegrowers of the Grand River Valley invite you to experience our dry red Cask wines paired with perfectly paired appetizers. September 9, from noon to 5pm, visit the participating wineries for a sample of their respective Cask wines, expertly paired with hearty appetizers, along with a second wine sample for $12 per person at each location.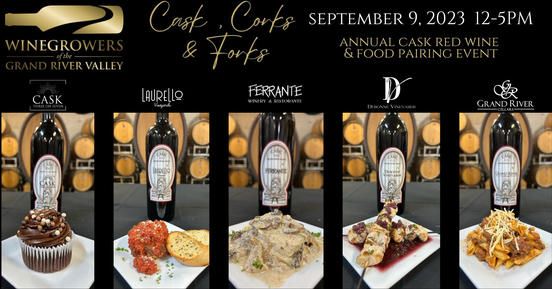 NEW THIS YEAR! Enjoy the Cask Tasting Package at each of the five wineries, have your card stamped, and redeem at your last stop for an elegant red wine glass!
PARTICIPATING WINERIES & MENU:
Grand River Cellars – 5750 S. Madison Rd., Madison, OH 44057  www.grandrivercellars.com
Appetizer: Penne Pasta with Puttanesca Bolognese Sauce
Laurello Vineyards – 4573 Rt 307, Geneva, OH 44041  www.laurellovineyards.com
Appetizer: House-made Meatball & Sauce with Crostini
Ferrante Winery – 5585 Rt 307, Geneva, OH 44041  www.ferrantewinery.com
Appetizer: Ravioli in Roasted Wild Mushroom Truffle Cream Sauce
Debonné Vineyards – 7840 Doty Rd., Madison OH 44057  www.debonne.com
Appetizer: Coq au Vin Chicken Skewers
Cask 307 – 7259 Warner Rd., Madison, OH 44057
www.cask307.com
Appetizer: Chocolate Truffle Wine Cupcake
The Cask Project began as an idea in 2010 to have a continual red blend from the Grand River Valley. Each year, a percentage of the wine will be bottled and sold to make room for the next year's harvest. The date on the bottle represents the year it began, "10" and the year it was bottled, "22". Each winery used a different 500 gallon Cask barrel with vinifera grapes from their own farm. Perpetually aged, perpetually oaked and annually refreshed with a new exceptional estate vintage. Experience our exceptional reds.