ADULT TRICK OR TREAT WINE & COCKTAIL TRAIL
The most fun you can have on a trail… with seasonal treats, sangrias & cocktails! $9 per person at each location.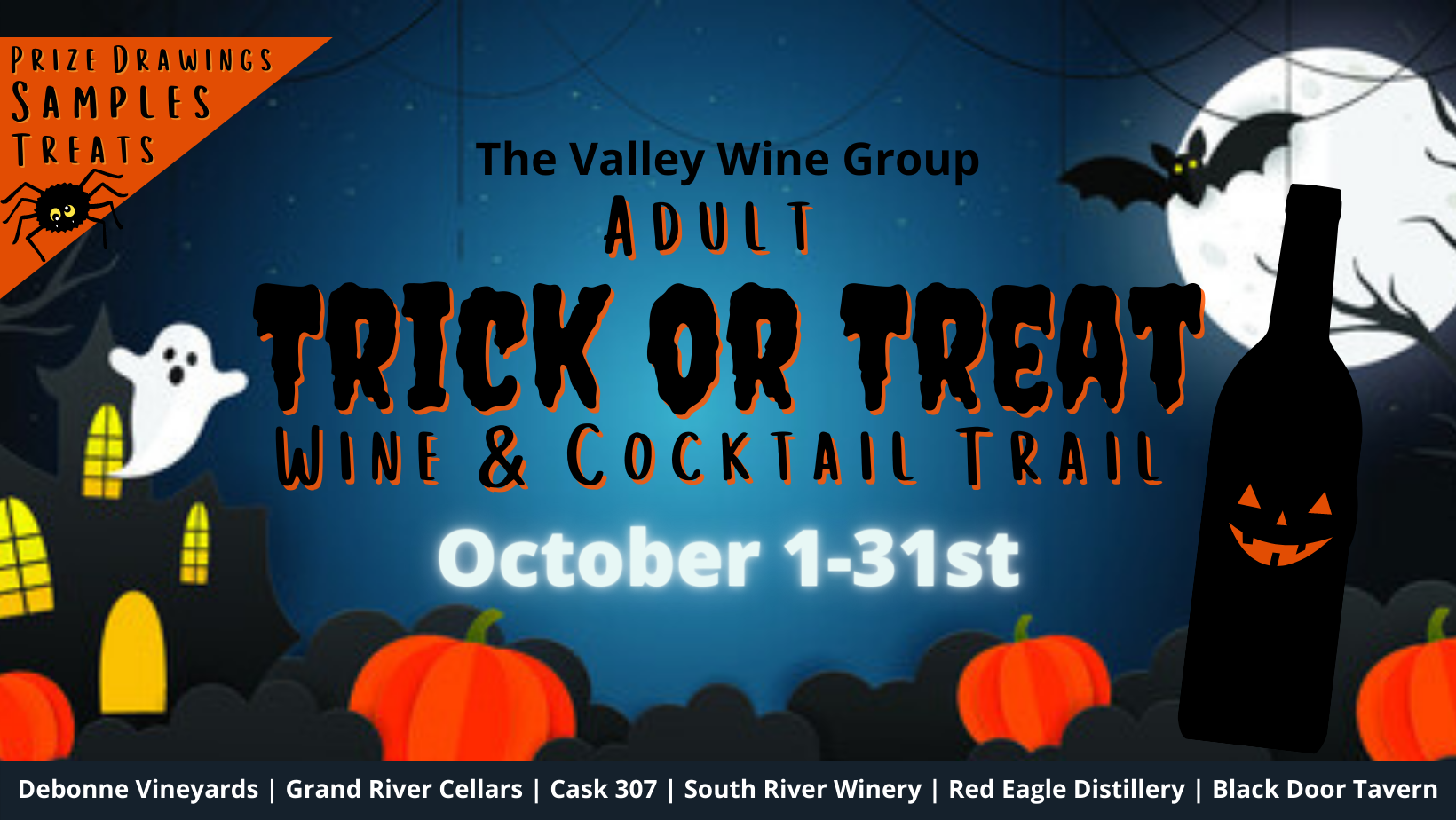 Ghouls just wanna have fun! We've conjured up a great time in the Grand River Valley with an Adult Trick or Treat Wine & Cocktail Trail! At Grand River Cellars, Debonne Vineyards, Cask 307, South River Vineyard, Red Eagle Distillery and Black Door Tavern, enjoy 2 wine samples or a mini cocktail and a fall-themed or ghoulish appetizer for $9 per person at each location. Try the featured signature cocktail/sangria at an additional cost. Pick up a trail card at any location and turn in your completed card at your last stop within the month of October to enter to win an Overnight Wine Country Getaway Package.
Groups of 10+ must call in advance to register. No presale trail tickets (unless purchased as part of an overnight package); pay as you go at each location.
Grand River Cellars Winery & Restaurant
5750 S. Madison Rd. Madison, OH 44057
440-298-9838 / www.grandrivercellars.com
Appetizer: Witch's Brew Pierogis
Featured Cocktail: Black Cat Cocktail +$
Debonne Vineyards
7840 Doty Rd. Madison, OH 44057
440-466-3485 / www.debonne.com
Appetizer: Zombie Brains Mac & Cheese
Featured Cocktail: Pumpkin Rum Punch +$
Cask 307
7259 Warner Rd. Madison, OH 44057
440-307-9586 / www.cask307.com
Appetizer: Apple Crisp Cheesecake
Featured Cocktail: Liquid Vampire Cocktail +$
South River Vineyard
6062 S. River Rd. Geneva, OH 44041
440-466-6676 / www.southrivervineyard.com
Appetizer: Pumpkin Cheesecake
Featured Cocktail: TBA +$
Red Eagle Distillery
6202 S. River Rd. Geneva, OH 44041
440-466-6604 / www.redeaglespirits.com
Appetizer: Fall Squash Hummus
Included Mini Cocktail: Maple Highball (no wine samples)
Featured Cocktail: Pumpkin Spice Bourbon Cocktail +$
Black Door Tavern
6202 S. River Rd. Geneva, OH 44041
440-466-6604 / www.blackdoortavern.com
Appetizer: Ohio Pear Bisque with Red Eagle Bourbon Cream
Included Mini Cocktail: Apple Cider Mule (no wine samples)
Featured Cocktail: Dark N Stormy +$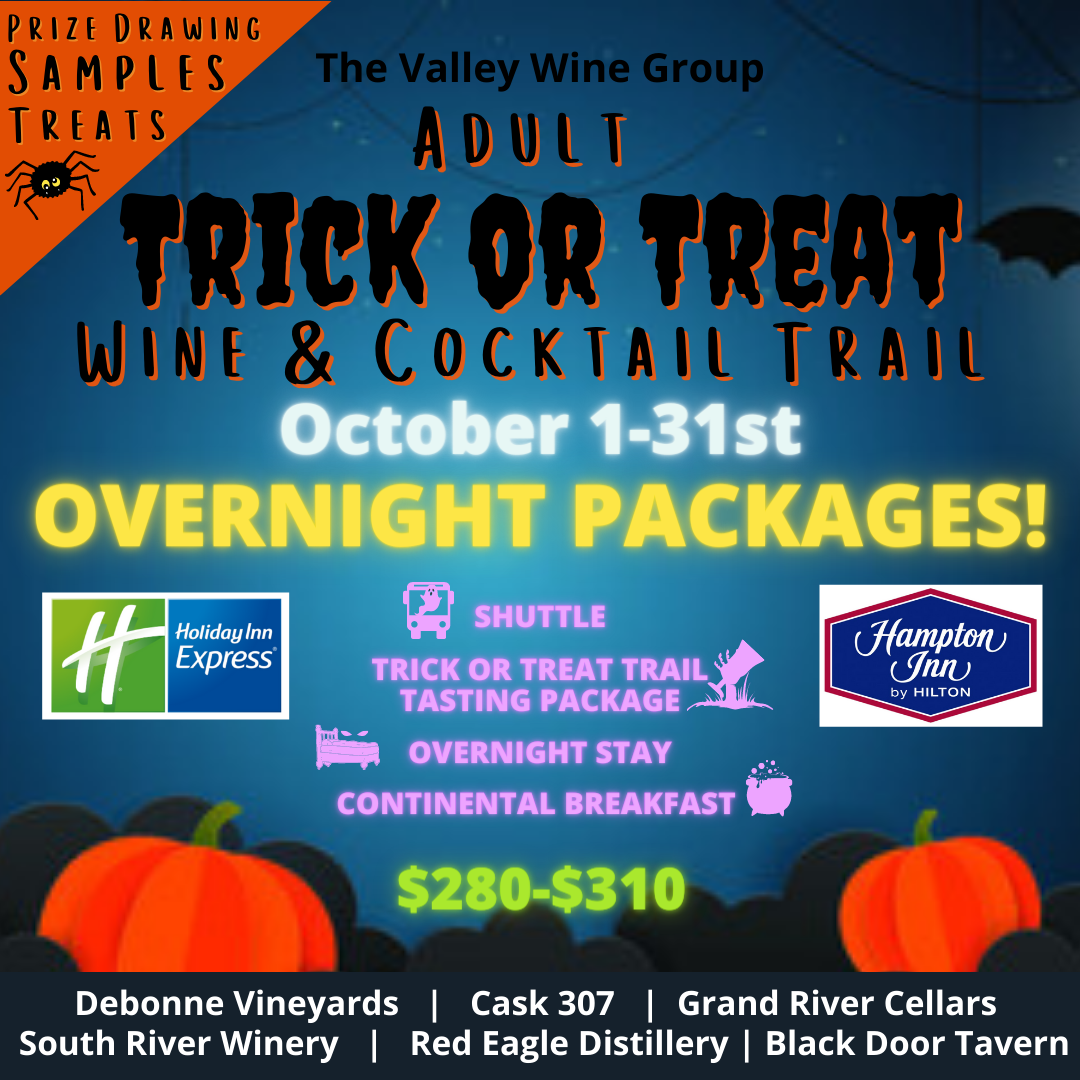 Overnight Packages include shuttle service for 2 to participating wineries from your chosen hotel, two Adult Trick or Treat Trail passes for each location, overnight accommodations at your choice of Hampton or Holiday Inn in Madison & continental breakfast. Weekday packages include a bonus $15 dining voucher. For more information and to purchase Overnight Packages with the Hampton Inn Madison or Holiday Inn Express Madison: